sysgen storage server solutions save you money and time!
While traditional RAID technology has become the bottleneck of SSD hard drives, GRAID Technology has developed a breakthrough software and hardware solution to eliminate the performance bottleneck of RAID protection for SSDs.
Designed for both Linux and Windows operating systems, GRAID SupremeRAID supports RAID levels 0/1/10/5/6/JBOD, while the core software license supports up to 32 native NVMe drives. SupremeRAID™ SR-1010 enables superior NVMe/NVMeoF, SAS and SATA performance while increasing scalability, improving flexibility and lowering TCO. Its revolutionary AI GPU solution eliminates the traditional RAID bottleneck for mass storage and delivers maximum SSD performance for high-intensity workloads.
After all, what good are the fastest computers if the data to be processed cannot pass the "bottleneck" fast enough. They don't perform at full capacity, generate high operating costs and can set you back in performance-oriented competition. Are you aware that conventional data controllers only get a maximum of 10 to 20% of the possible read speed of SSDs? A disaster for data-driven companies that is easily avoidable. We will show you how to get the full performance, in terms of speed, out of your data storage devices and why the use of powerful storage hardware and software is a significant competitive advantage.
Speed up your RAID
Unleash the Full Potential of PCIe Gen4 Storage Systems in
Enterprise Data Centers
The GRAID SupremeRAID™ SR-1010, based on the NVIDIA A2000 GPU, is the world's fastest NVMe & NVMeoF RAID card for PCIe Gen 4, designed to deliver superior NVMe/NVMeoF, SAS and SATA performance while increasing read/write speeds in AFA and HPC applications.
Impressive, isn't it? It's worth taking a look at the new GRAID SupremeRAID solution to see if this card is the right choice.
Performance data
MORE INFO
The new performance standard FOR enterprise data protection
The new SR-1010 is based on the NVIDIA A2000 GPU and improves overall performance for both reading and writing. Since the card is a GPU, the card has tremendous processing power that is not available in standard RAID cards. The GRAID solution provides superior performance while increasing scalability, improving flexibility, and lowering total cost of ownership by leveraging the computing power of the GPU.
GRAID SupremeRAID™ SR-1010
GPU-based NVMe RAID Card
Unleash the full potential of your SSD performance with the world's first GRAID SupremeRAID™ NVMe RAID card.
GRAID's powerful AI chip directly processes each I/O with minimal CPU involvement to solve the IOPS and throughput bottleneck, and leverages advanced parallel processing power and high interconnect bandwidth to deliver maximum SSD performance by reducing CPU cycles. It is possible to achieve up to 19 million IOPS and 110 GB/s throughput with support for up to 32 SSDs on a single card, enabling performance increases of between three and 40 times. GRAID's plug-and-play system is highly scalable and future-proof, delivering world-record performance with easy integration.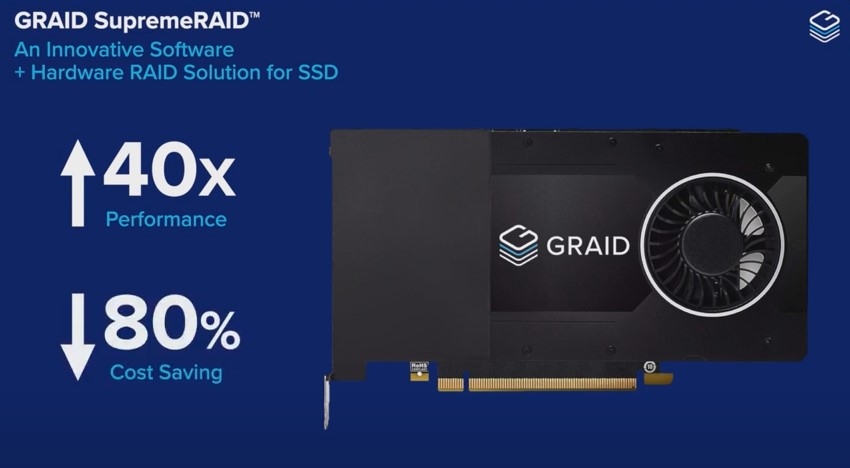 Benefit from:

Flexible &
Future-Proof
Unmatched flexibility with features such as new operating system support, compression, encryption, thin provisioning, or boot drive protection easily added with new software releases.

World record performance
Increasingly demanding workloads require faster throughput. GRAID SupremeRAID™ delivers the speed you need for high-performance applications.

Free up CPU resources
Free up valuable CPU resources for high-performance computing applications by offloading all your RAID computation to GRAID SupremeRAID™.

Plug & Play functionality
Effortless installation, simply plug into any available PCle slot to offload RAID processing; no cabling or motherboard re-planning required. Just click and go with high speed.

Highly scalable applications
Easily manage 32 direct-attached NVMe SSDs; extend data protection without sacrificing performance with Software Composable Infrastructure (SCI).

User friendly management
GRAID eliminates the need for battery backup modules because it does not rely on memory caching for performance like traditional hardware RAID.
sysGen offers you the most advanced all-in-one Gen4 storage solutions from Gigabyte or Supermicro, already equipped with GRAID SupremeRAID™ SR-1010, SSD storage software, and NVMe SSDs that have been thoroughly tested. So you get full NVMe performance, without sacrificing data protection and business continuity. Get the full performance out of your data storage, save costs and more importantly, save time.
Unleash your data throughput
Full utilization of NVMe performance - 19 MIOPS and 110 GB/s throughput, which is currently the industry-leading performance benchmark.
Minimization of CPU resources
SupremeRAID™ handles all IO processing and RAID compute load, freeing up valuable CPU resources for other applications, increasing your productivity and reducing costs.
Overcoming hardware raid limitations
Overcome hardware RAID card limitations such as processing power, PCIe bandwidth, number of SSDs supported, etc.
Plug & Play
Plug and Play and can also be used for systems without PCIe switches where SSDs are directly connected to the CPU via PCIe without changing the hardware design.
Supports a wide range of NVMe interfaces
SupremeRAID™ can be used with U.2, M.2 or even AIC NVMe interfaces, making SupremeRAID™ the most versatile NVMe SSD RAID card in the world.
High scalability
Highly scalable, and new software features such as compression and encryption can be easily added.
R282-Z9G & sys-2124US-TNRP - ALL-IN-ONE STORAGE SERVER
INCL. GRAID TECHNOLOGY
With the Gigabyte R282-Z9G & Supermicro SYS-2124US-TNRP servers, you get all-in-one server solutions that are already equipped with the GRAID SupremeRAID™ SR-1010 and thus specifically target high-performance NVMe (Gen3) SSDs for RAID.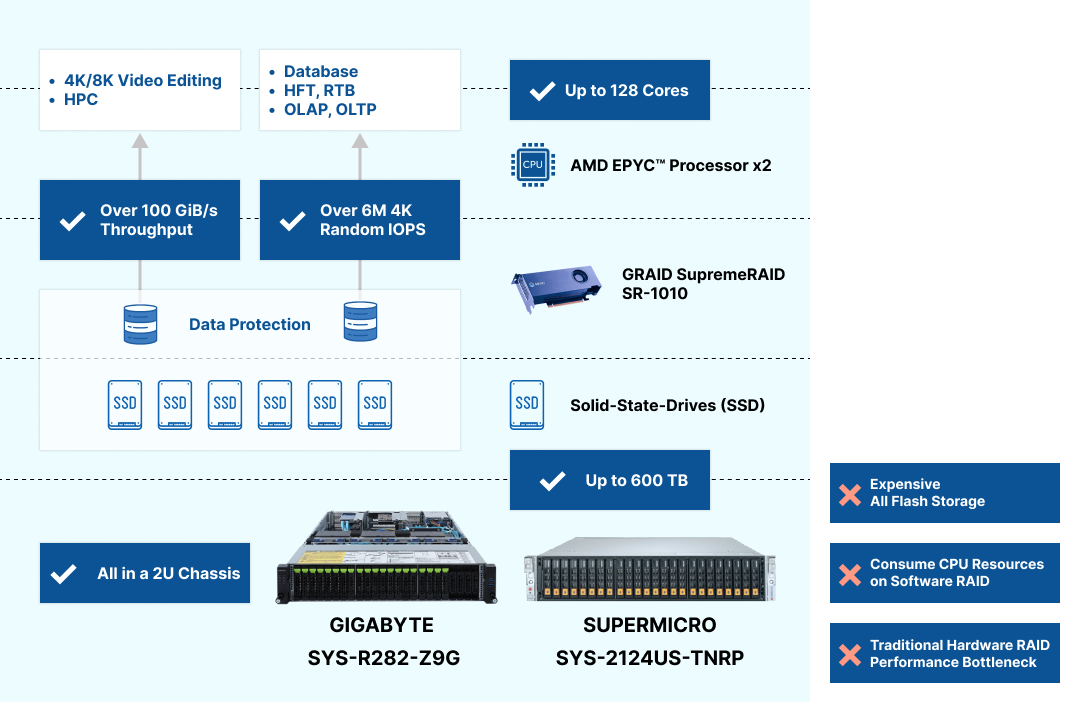 TO THE GIGABYTE SERVER
TO THE SUPERMICRO SERVER
TEST DRIVE BOOKING
Introducing:
GRAID SupremeRAID™
Designed for a modern, software-compatible environment, GRAID Technology brings you the world's first future-proof RAID card that protects not only your direct-attached flash storage, but also network-attached storage via NVMe - all while delivering world-record performance speeds and an extremely low TCO.
GRAID SupremeRAID™
As an NVIDIA Elite Partner and long-time partner of Supermicro and Gigabyte,
​​​​​​​we provide you with the fastest storage servers for data-driven industry and research.
We unlock the full potential of SSD performance thanks to NVMe solutions, hardware + software, from GRAID Technology.
Contact us today to find out how GRAID's NVMe solution can unleash the full potential of your high-performance workloads or
​​​​​​​inquire directly about the new GRAID SupremeRAID solution.