Our healthcare system needs new solutions to meet the demand for personalized medicine, next-generation clinics, higher quality care, and breakthroughs in biomedical research to treat disease.

sysGen implements NVIDIA and VMware-based solutions for healthcare. We harness the power of Artificial Intelligence (AI) and High Performance Computing (HPC) to bring you new tools that enable better patient care at lower cost.
SOLUTIONS FOR HEALTHCARE
WITH ACCELERATED DATA PROCESSING
Medical imaging
AI-powered tools can be an additional set of "eyes" to help clinicians quickly read photos, calculate measurements, monitor changes, and identify urgent insights to streamline workflows and improve patient care.
More info
Smart Hospitals and Medical Instruments
From smart sensors to medical instruments that support advanced imaging in real time. AI in the periphery can deliver immediate insights, optimize patient care and fulfill the promise of smart hospitals.
More info
Genomics
Using HPC to accelerate genomic analyses in population and cancer research can help identify rare diseases and bring tailored therapeutics to market faster, advancing the path to precision medicine.
More info
Drug development
With accelerated computations, researchers can virtually model millions of molecules and investigate hundreds of potential drugs simultaneously, reducing costs and shortening time to solution.
More info
COMPUTATIONS IN IMAGING
NO LONGER IMAGINABLE WITHOUT: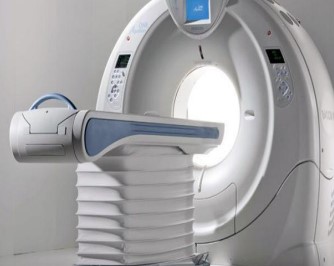 RECONSTRUCTION
Computed tomography Magnetic resonance imaging Ultrasound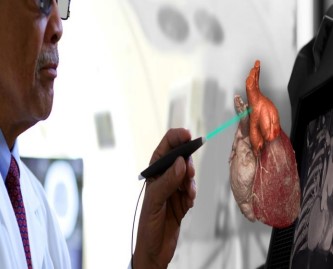 VISUALIZATION
2D/3D visualization Medical
simulationFilmic
rendering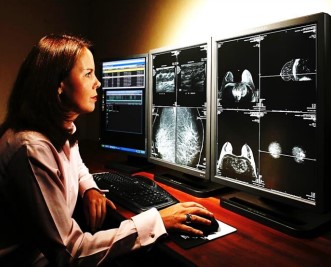 ANALYSIS/PLANNING
Computer-aided diagnostics Planning of
radiotherapy Quantification
What does NVIDIA GPU technology stand for in healthcare?
Digital transformation in healthcare has led to strong GPU-based VDI penetration in the industry. It lowers costs, increases the safety of procedures, and improves therapy. However, many of these traditional VDI solutions still lack GPU virtualization and cannot keep pace with modern solutions and applications. By deploying NVIDIA GPU virtual solutions in their VDI environments, healthcare facilities and their patients reap significant benefits. These include increased productivity, better diagnoses, and therefore higher chances of recovery. This enables them to realize use cases that previously could not be supported with VDI.
HEALTHCARE: SOLUTIONS FOR ACCELERATED COMPUTING
Increase productivity and mobility
More and more healthcare professionals can now access data from anywhere, at any time, and on a variety of devices with a PC-like experience. This mobility and quick access to information leads to faster decision making and increased diagnostic accuracy. In addition, mobility improves the completeness and accuracy of patient records, and increases the speed of input and clinical workflow.
Reduction of infrastructure costs
sysGen can virtualize and cost-effectively make available electronic medical records (EMR) and PACS applications, including data from old, isolated IT systems.
Data is unified and then easily accessible to all users. IT can replace thick clients with thin or zero clients without compromising the user experience. This lowers operational costs, simplifies enterprise data management, and results in greater visibility across your virtualized infrastructure, including end-to-end management of your virtual GPU infrastructure.
Safety without compromise
sysGen can help IT extend virtualization to more users and give you secure access to critical clinical applications on any device. At the same time, it complies with the Health Insurance Portability and Accountability Act of 1996 (HIPAA) and the Health Information Technology for Economic and Clinical Health (HITECH) Act.
Improve the quality of care
Healthcare professionals should be able to securely access their patients' data from any location and with any device. This will ensure better collaboration and information sharing between physicians, specialists and patients. Physicians will no longer have to waste a lot of time retrieving and recording data during patient rounds, as the information is now available instantly. This increases efficiency and frees up more time for direct patient care.
LOWER INFRASTRUCTURE COSTS WITHOUT SACRIFICING SAFETY
Using NVIDIA virtual GPUs in conjunction with virtualized EMR and PACS applications can reduce the cost of delivering information anywhere, on any device, with native, PC-like performance, and improve efficiency for clinicians and staff. Security is improved because all critical patient data is stored centrally in the data center or cloud rather than on endpoints.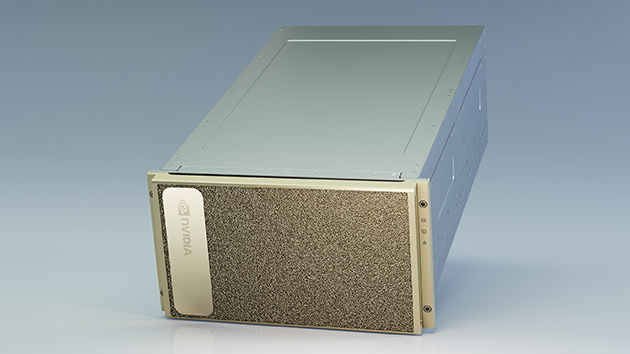 dgx a100 - THE UNIVERSAL ki-sYSTEM FOR wORkLOADS IN THE HEALTH CARE SECTOR
NVIDIA DGX™ A100 GPUs for Tensor Core provide unprecedented computational power to support new drug discovery, uncover genetic mutations to fight disease, and drive innovation in healthcare. Combined with expert access and easy-to-deploy infrastructures, NVIDIA DGX A100 is the fundamental building block for building AI data centers.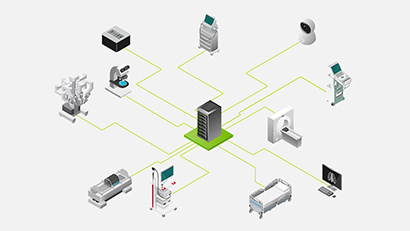 Real-time AI in the periphery
NVIDIA's edge solutions are designed to capture and process continuous streams of data at the edge of the network. With advanced image, video, and signal processing, AI-embedded medical instruments can help surgeons perform less invasive, more targeted surgeries, radiologists make diagnoses, and sonographers produce faster, more accurate echocardiograms. With the NVIDIA EGX platform, you can bring healthcare to the cutting edge.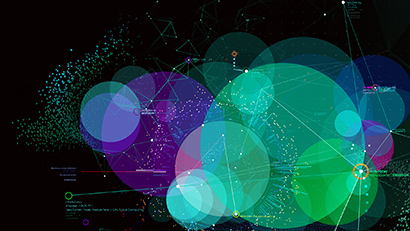 On-Demand Cloud
Computing
The latest NVIDIA GPUs are available on all major cloud platforms worldwide. With simplified IT, compute power that can be increased or decreased as needed, and access to NGC™, a center for GPU-optimized software for deep learning, machine learning, and HPC, organizations can focus on developing solutions, capturing information, and delivering business value.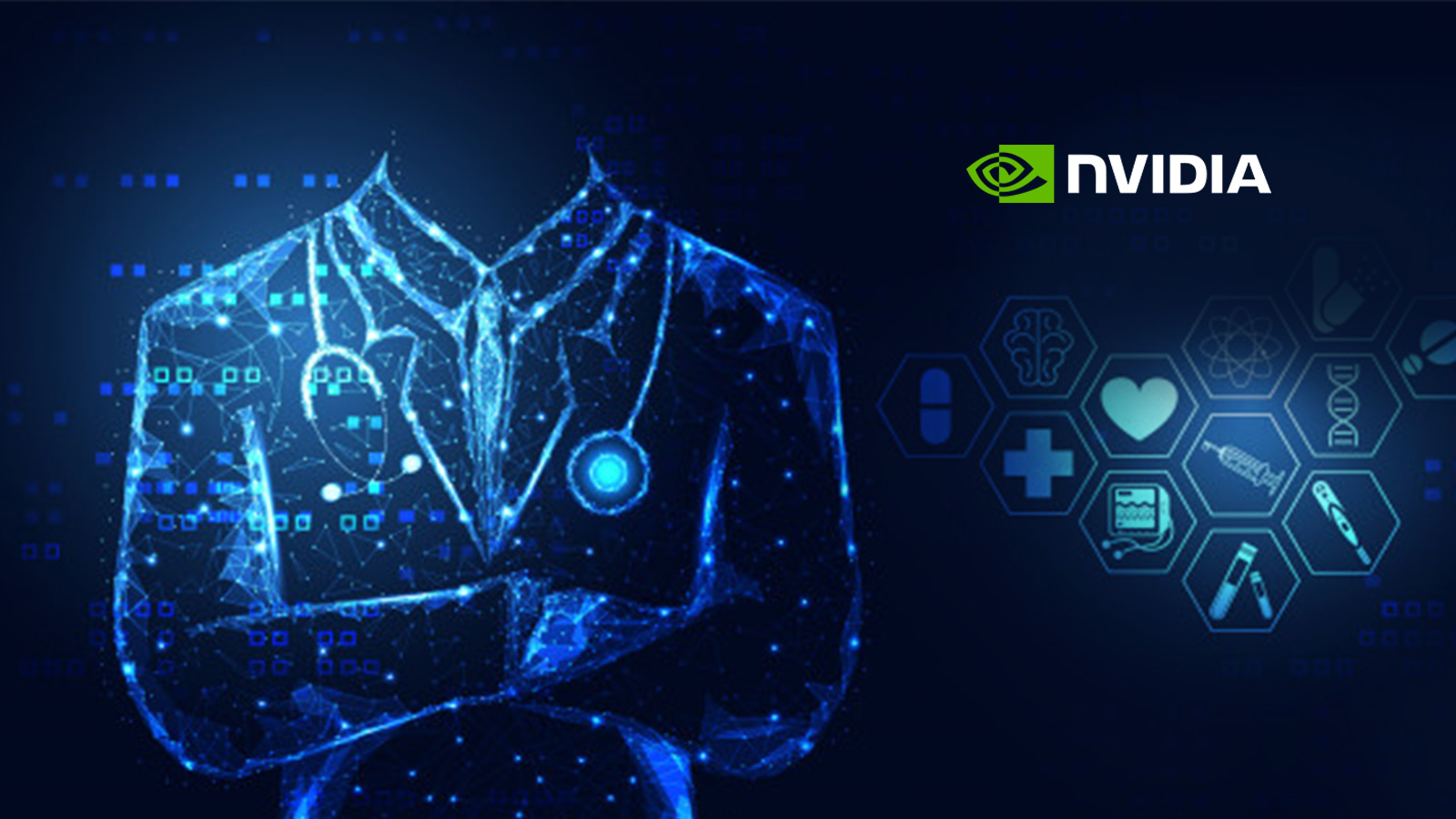 CREATION OF DOMAIN-SPECIFIC MEDICAL APPLICATION AREAS
NVIDIA Clara™ is a framework for medical applications for imaging, genomics and the development and deployment of smart sensors and AI-enabled medical devices. It includes a full suite of GPU-accelerated libraries, SDKs and reference applications for developers, data scientists, and researchers to build real-time applications for secure and scalable solutions.

MORE INFO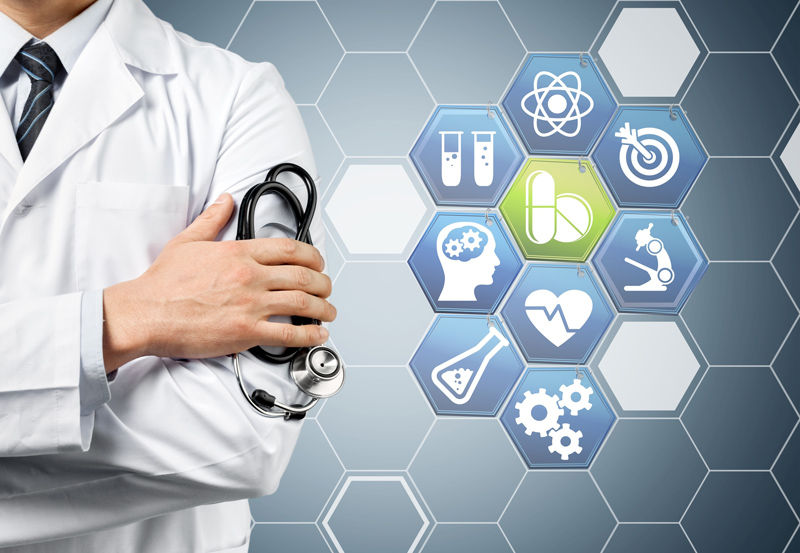 ACCELERATED, COMPUTER-AIDED DRUG DEVELOPMENT
NVIDIA Clara™ Discovery (GPU-powered drug discovery) is designed to support interdisciplinary workflows. It combines the power of accelerated computing, AI, and machine learning, accelerating the entire drug discovery process and unlocking the potential to bring life-saving drugs to market faster.


MORE INFO