sysGen offers validated Supermicro and Gigabyte VDI (Virtual Desktop Infrastructure) server solutions with NVIDIA high-performance GPUs and Virtual GPU software. Client virtualization is provided by VMware horizon virtual desktop or CITRIX. Customers can choose between AMD EPYC™ 7002 and Intel Intel® Xeon® Scalable processor models. Both manufacturers offer a range of strengths. Intel has focused on higher clock speeds and efficiency, while AMD has focused on high core counts and energy efficiency. If you follow most test results, AMD will keep the leading role in the next years, also because they are the first company to offer PCIe 4.0 technology, and serve the new NVIDIA A100 GPU at full clock speed. We currently support NVIDIA Tesla® GPUs based on Volta™, Turing™, Pascal™, and Maxwell™ architectures, as well as T4 and NVIDIA Quadro® RTX™ GPUs, delivering best-in-class virtual desktop experiences to professional users anytime, anywhere.
VDI has become increasingly popular with the expanded availability of mobile broadband, higher bandwidth, more computing power in modern mobile devices, higher screen resolutions, and a trend toward BYOD in the enterprise. Supermicro VDI solutions enable RDSH, traditional VDI and third-party graphics-intensive use cases by leveraging NVIDIA vGPU software running on NVIDIA Tesla® GPUs such as V100, P40, T4, M10 and Quadro® RTX™ 6000 and 8000. The jointly developed solution provides the most TCO-optimized x86 architecture for scaling VDI deployments across an enterprise by improving IT management, delivering on-demand performance, and increasing productivity in virtual workspaces.
sysGen-supported applications.
WORKING FROM HOME, ON THE ROAD, IN THE OFFICE
NVIDIA GPU comparison
USE Case
Hypervisor (vmware or citrix)
Take a look at the overview on the right
NVIDIA Virtual GPU Software
GRID vApps, GRID vPC, Quadro vDWS, vComputeServer
Subscription for Support, Updates and Maintenance (SUMS)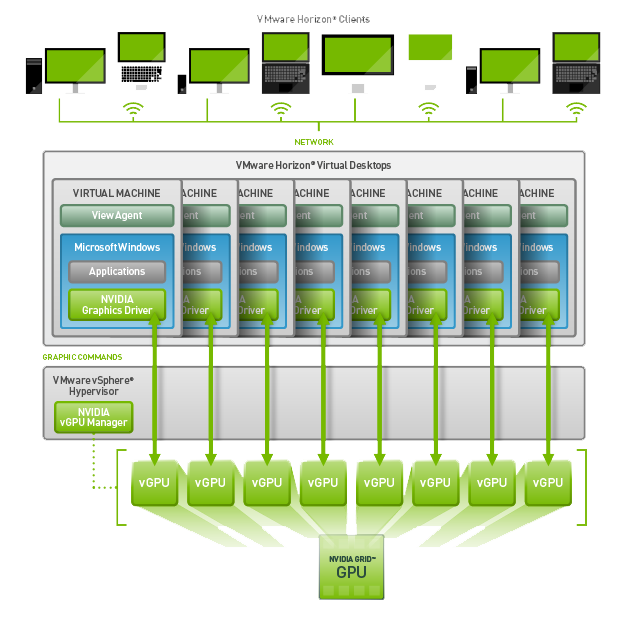 MAIN ADVANTAGES
Best Windows 10 VDI user experience.
Exceptional user experience.
Ultimate user experience with the ability to support both compute and graphics workloads for any vGPU.
Continuous Innovation. A regular cadence of new software releases to ensure you are always on the cutting edge of features and improvements.
A regular release of new software releases to ensure you are always up to date with the latest features and enhancements.
The industry's highest user density solution with support for up to 32 virtual desktops per GPU. Lower TCO with up to 8 vGPU profiles for the flexibility to provision resources based on user requirements.
Optimal management and monitoring.
True end-to-end management and monitoring with real-time insight into GPU performance and migration technology, plus comprehensive partner integrations that let you leverage the tools you know.
Supports multiple HD displays and up to two 4K resolution displays to expand your workspace, improve multi-tasking, and increase productivity.
Ability to dynamically allocate GPU resources to ensure that each VM and user has the performance they need to do their job.
NVIDIA VIRTUAL GPU SOFTWARE EDITIONS
NVIDIA Virtual GPU software is available in four editions, so
you can give each of your users exactly the features they need.
License models
Annual license
An annual subscription is active for a fixed period defined by the terms of the subscription license. To remain active, the license must be renewed at the end of the subscription period. The annual subscription includes the software license and SUMS.
Unlimited license
A perpetual license allows the use of the licensed software for an indefinite period of time. Users who choose a license under this model must subscribe to SUMS for the first year. The SUMS subscription can be renewed annually after the initial subscription expires.
Available NVIDIA vGPU software licenses
Take a look at the NVIDIA Virtual GPU SW license option list or download it!
If you are not sure which barebone, NVIDIA vGPU product or license to choose? Please contact us now to learn how Supermicro servers with NVIDIA vGPU technology offered by sysGen accelerate the most demanding workflows.
NVIDIA vGPU Software Licenses
"SUPERMICRO SERVER + NVIDIA GPUS + VGPU SOFTWARE ARCHITECTURES"
With Supermicro Virtual Workstation reference architectures, you can implement pre-tested VDI bundles that mitigate cost, planning, procurement, and deployment challenges. Get the best performance and user experience with certified Supermicro servers with NVIDIA GPUs and vGPU software licenses.