CLASSIC DESKTOP PCS STILL SERVE THEIR PURPOSE, BUT NOW IS THE RIGHT TIME
​​​​​​​FOR A VIRTUAL DESKTOP INFRASTRUCTURE (VDI) WITH VIRTUAL GPU POWER
It's time for a virtual desktop infrastructure (VDI) using virtual GPUs (vGPU) to enable businesses to manage their IT infrastructure more easily, efficiently and securely. Nowadays, essential for the economic growth of a company.

Workforces and devices are dispersed and employees often need to work remotely. This brings all sorts of challenges in terms of security, productivity, user customisation and IT management. There is also an increasing demand from engineers and designers for 3D applications and other graphics-accelerated applications with large amounts of data. In the past, CPU-only VDI environments were used to centralise management. However, these solutions could only reach office workers who did not need graphics acceleration, and power users, designers and others had to make do with dedicated machines. Now VDI has reached the point where all users who need graphics acceleration have a solution by combining VDI with vGPU.

Remote working allows remote (even global) access to applications offered as a service, either from a company's own data centre or as a service through the cloud provider of choice.
With desktop virtualisation, you streamline your IT systems and reduce the workload for your administration.
The size of the company and the number of employees are irrelevant. Basically, the classic desktop variant is expensive and associated with high maintenance costs as well as a high updating and connection effort with the existing resources.
Perhaps the biggest challenge, however, is security, as the devices often contain sensitive data that can be lost, stolen or manipulated.

Virtual Desktop Infrastructure (VDI) is a great solution to a company's IT-related problems. Businesses get the best of both worlds as this technology is a customisable virtual desktop that can be connected to virtually any device and have access to files. It allows administrators to host and centrally manage these virtual machines in the data centre, while providing end users with a familiar PC experience.
WHO NEEDS VDI WITH VIRTUAL GPUS?
VIRTUELLE BELEGSCHAFT
The world of work is changing and employees increasingly need to do work outside the office. They may also need to use multiple devices, including tablets or personal phones. With VDI, users can access files remotely while IT can securely manage security and privacy concerns.
KI UND DEEP LEARNING
Artificial intelligence and deep learning rely on the power of GPUs because most algorithms can be parallelised, which GPUs excel at, and GPUs have incredible memory bandwidth that can handle a huge amount of data.
Engineering & Sciences
For optimising and testing designs in aerodynamics and for thermal simulations, these situations need the acceleration that only a GPU can provide. Engineers need access to data or high computing power. Virtual GPUs make it possible to work at a terminal that is separate from where the data or hardware resides.
VIRTUAL DESKTOP INFRASTRUCTURE - BRIEFLY & CONCISELY EXPLAINED
Virtual Desktop Infrastructure (VDI) is a great solution to a company's IT-related problems. Businesses get the best of both worlds as this technology is a customisable virtual desktop that can be connected to virtually any device and have access to files. It allows administrators to host and centrally manage these virtual machines in the data centre, while providing end users with a familiar PC experience.​​​​​​​
​​​​​​​
CHALLENGES OF THE VDI
Some industries have been quick to adopt VDI, such as healthcare, as they needed better regulatory compliance and remote access became a must. However, companies thinking about moving their servers to VDI face some major challenges.

When we say that companies need to adopt new practices, we focus on individuals. Moving from a personal device that is always available to you to one that you just log on to can be unsettling for many users. Add to that the fact that not all applications can be virtualised, and you have a user who is reluctant to embrace a new way of using a PC. Persuasion is needed and staff need to be shown that it will be worth it in the long run. Also, the upfront costs for a VDI architecture are high. Instead of buying a laptop when a user needs one, all the hardware and setup for VDI needs to be done before virtual devices are deployed. Finally, IT administrators for virtual device deployment need to be involved in the project and require a high level of knowledge of how to use servers and may need training. If these challenges can be overcome, companies can reap the benefits of VDI.
ADVANTAGES OF THE REMOTE VIRTUAL DESKTOP INFRASTRUCTURE SOLUTION:
Learn what speaks for virtualisation.
GENERAL ADVANTAGES
Centralisation of administration on the virtualisation server in the data centre.
Complex administration and maintenance of workstations is eliminated. A central server location for hardware or software upgrades as well as for monitoring and patching simplifies the work of IT administrators.

Increased data security through centralised data storage & simplified data recovery.
Increased efficiency.
Resources can be better tailored to the user. Additionally, PC upgrades and repairs take minutes instead of hours.
Resources are not under- or over-utilised. Virtual machines have an optimal allocation of hardware for each user. This increases the efficiency of resources
DYNAMICS
A dedicated, virtualised machine enables users to easily access their work-related resources from any location and any device with an internet connection, allowing them to work regardless of location.

Reduction of process and labour costs.

Powerful desktop image management capabilities.

Freedom to access the user's corporate desktop environment from any computer, thin client or business or home PC.

Desktop computing power on demand.
Existing desktop-like performance, including multiple monitors, USB support, video streaming and bi-directional audio/video.
Instant provisioning of new desktops.
COST SAVING POTENTIAL
Use of older hardware possible, as VDI processing is server-based.

Cost reduction in the provision of new applications.

Cost savings through longer usage times of the end devices.

Cost savings by using the servers for computationally intensive tasks (rendering, AI) outside regular working hours. Internationally active companies could shift their work from time zone to time zone and thus carry out developments cost-effectively around the clock on one platform and be the first to market with new products.

Optimised licence usage (distribution according to need/cost).

Virtually no downtime in the event of hardware failure.

Extend the standard three-year PC renewal cycle to five years or more.
SECURITY
Control access to your data and values
VIRTUALISATION IS AN ABSOLUTE MUST FOR ALL INDUSTRIES TODAY
Here is a small preview of different industries where their use is absolutely recommended: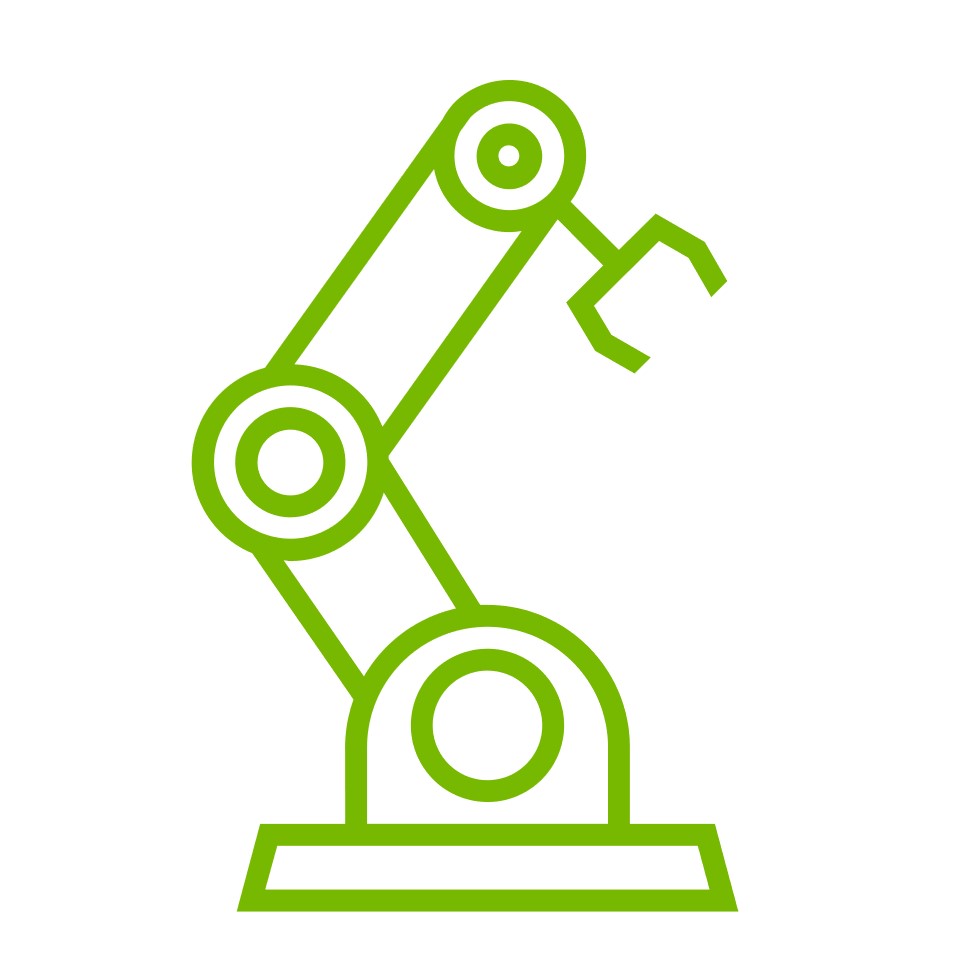 Manufacturing
Radically improve design, collaboration and time-to-market, and increase productivity and collaboration.
Compressing design cycles and reducing unit costs are critical to any manufacturer's competitiveness. Designers
Designers are under increasing pressure to deliver innovations quickly, to respond to
respond to market demands and support an ever-expanding product range - often in geographically dispersed teams.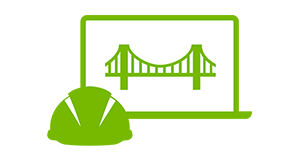 GPU VIRTUALISATION FOR AEC
Design everywhere with cloud-based solutions
​​​​​​​VDI enables AEC firms to reap significant benefits, including real-time collaboration with dispersed teams and external partners, improved productivity and robust version control.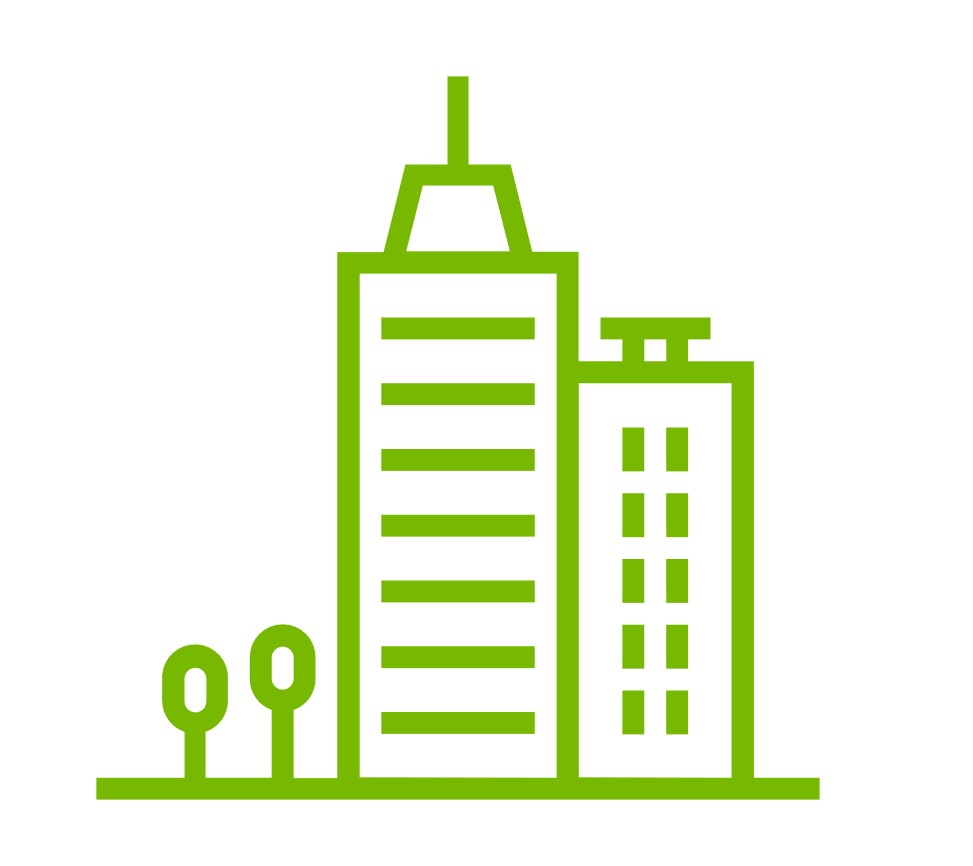 Smart Cities
Redesign the cities of the future
NVIDIA technologies are playing a key role in shaping the cities of tomorrow - from building design and digital building samples to powering autonomous construction vehicles and deep-learning-assisted safety checks and infrastructure inspections.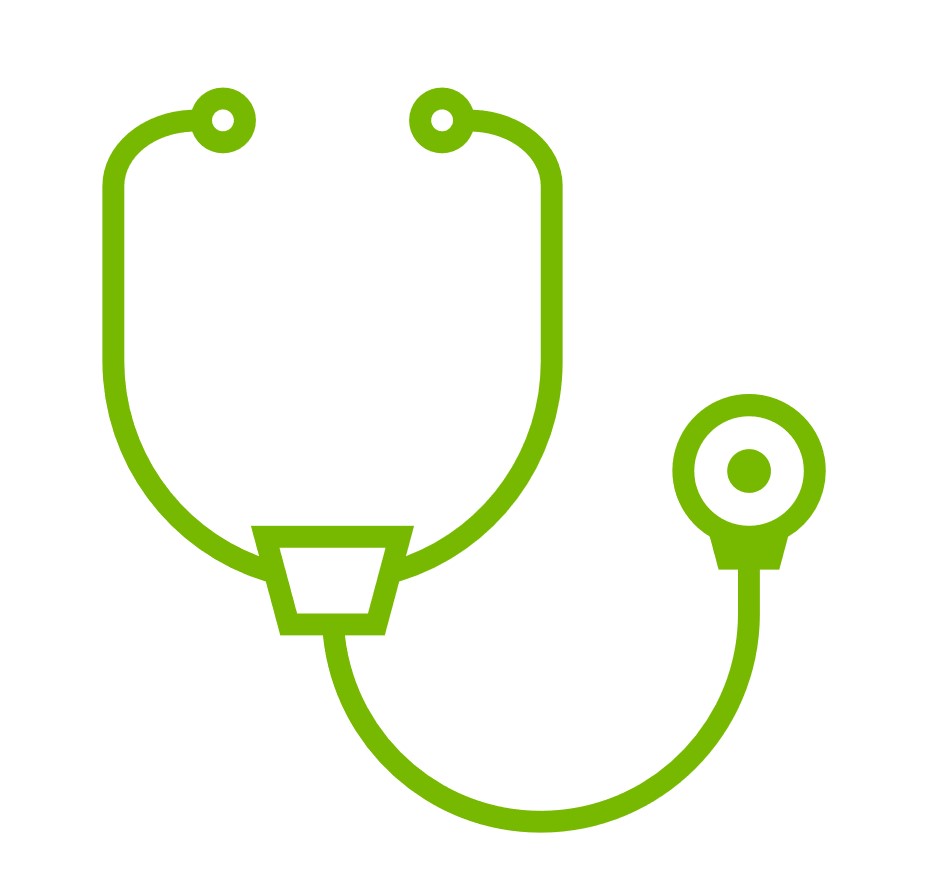 Healthcare
WORK ON THE TASK OF YOUR LIFE - IN EVERY PLACE.
Today's healthcare sector is facing entirely new challenges. To meet them, healthcare workers, from doctors to researchers, need powerful, flexible computing tools that allow them to work from anywhere - whether they're in the hospital, in the field or at home. Learn more about NVIDIA's remote solutions that can make it happen.
VDI ARCHITECTURE EXPLAINED
The concept of VDI is to use the hardware of a server and assign it to virtual machines (VM). The image on the right visualises the allocation of resources. And the image below shows the virtualisation architecture, which will be discussed next.

At the beginning, a server is built with typical hardware (CPU, RAM, storage, GPU, network connections, etc.) set for the end users. After installing the hardware, a hypervisor (Microsoft Hyper-V, Citrix XenServer, etc.) is installed to abstract the hardware. This hypervisor forms a virtualisation layer on which the VMs are built. The hypervisor, which stands between the VMs and the hardware, contains a virtual machine manager. Through this technology, each VM is provided with its own operating system and applications. At this point, a server has virtualised everything except the GPU.

To create a virtual GPU, software such as NVIDIA Virtual GPU Manager is installed in the hypervisor. This software, in conjunction with other NVIDIA software (vCS, vDWS, GRID vPC or GRID vApps), allows the virtual machine to be customised. On this vGPU layer, the VMs are as before, but now with NVIDIA drivers and binaries/libraries.
AI Enterprise - NVIDIA GPUs and VMware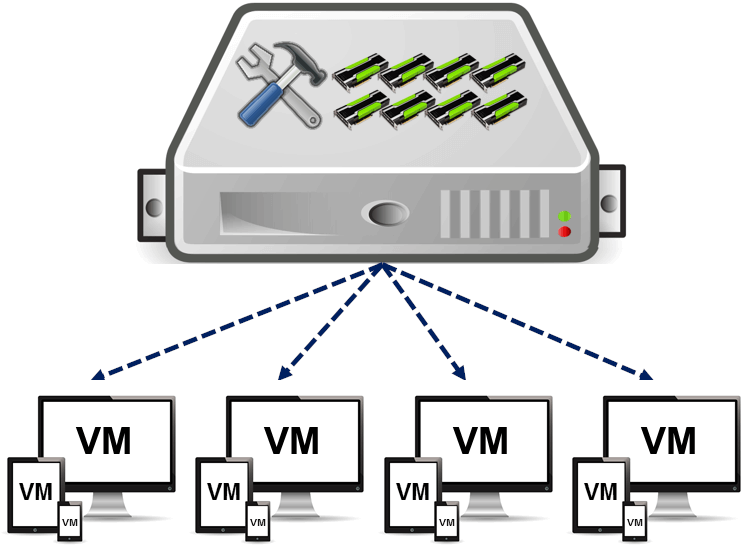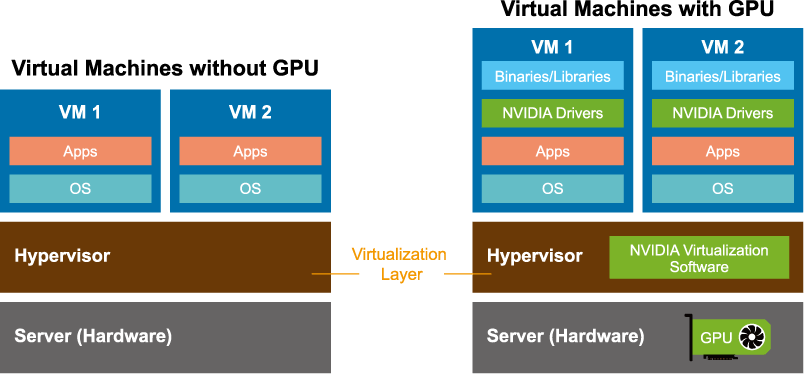 DETERMINE THE MOST SUITABLE NVIDIA SOLUTION FOR YOU
The following information should help you decide which solution is the best fit.

・Understand the user types to select the appropriate NVIDIA Virtual Software.
・Learn the different types of NVIDIA GPUs based on specifications and usage.
・Select the right server for you with certified NVIDIA vGPU.
Task Worker:
Basic tasks and do not need graphics acceleration.
NVIDIA Virtual Software: GRID vApps
NVIDIA GPU Used: Turing T4

Knowledge Worker:
Entry-level graphics.
NVIDIA Virtual Software: GRID vPC or Quadro vDWS
NVIDIA GPU Used: Turing T4

Power User:
Mid-level graphics to high.
NVIDIA Virtual Software: Quadro vDWS or vCS
NVIDIA GPU Used: Quadro RTX6000 or Turing T4

Designer, Engineer, AI Scientist:
High-end computing.
NVIDIA Virtual Software: vCS
NVIDIA GPU Used: Ampere A100, Quadro RTX8000, or Turing T4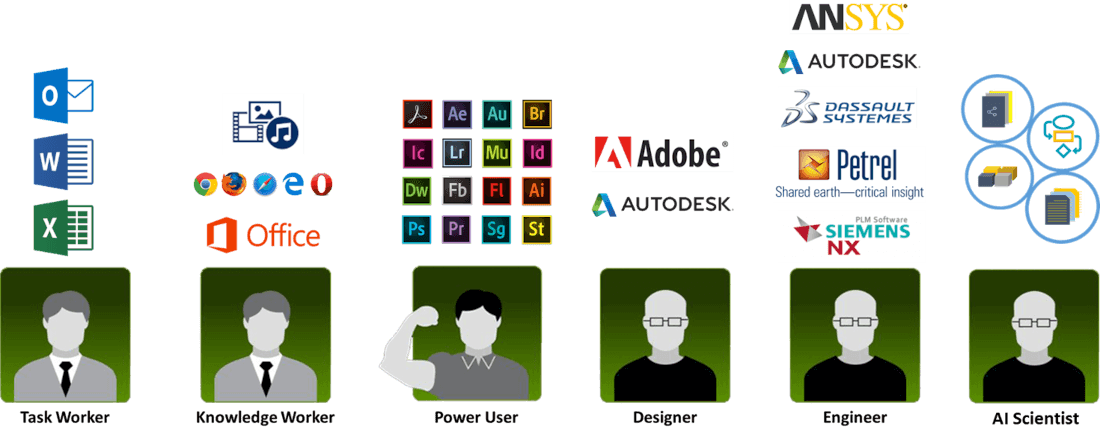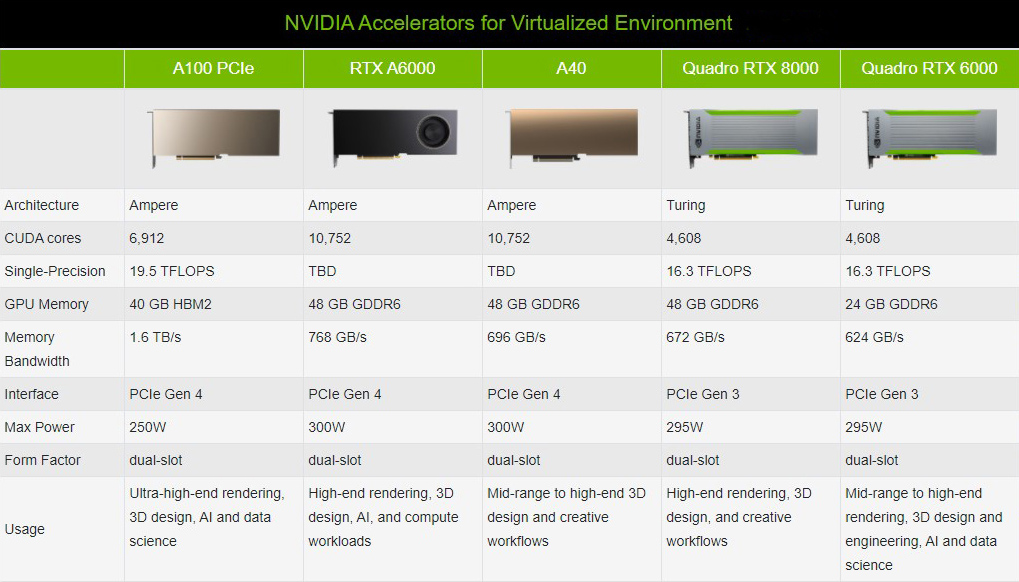 OUR RECOMMENDATIONS:
sysGen offers validated Supermicro and Gigabyte VDI (Virtual Desktop Infrastructure) server solutions with NVIDIA high-performance GPUs and Virtual GPU software. Client virtualisation is via VMware Horizon Virtual Desktop or CITRIX. AMD EPYC™ 7002 and Intel® Xeon® processor models are available.
THE FINANCIAL FACTOR
Virtualised desktops are not automatically cheaper in the short term than classic server-client models. The financial side depends on virtualisation efforts. There are upfront investments in servers, storage, data centres, image delivery mechanisms and network equipment. In the long run, however, companies benefit from an impressive return on investment (ROI) and minimise the operating costs of desktops by using low-cost thin clients as well as zero-client endpoints because the virtual desktop infrastructure can run on any endpoint by using the server's resources. As a result, there are fewer costs for hardware upgrades and the administration effort is reduced considerably.

On the financial side, the licence for the use of desktop virtualisation is added to the server components.

If your company does not have its own IT department, this can be outsourced via a managed service. The central administration results in potential cost savings.
CONCLUSION: IDEAL FOR ALL COMPANIES ​​​​​​
Not only corporations can afford this technology, it is also worthwhile for small and medium-sized enterprises to think about the advantages of desktop virtualisation. This is because the relatively low cost of PC hardware is offset by the high cost of supporting and managing physical desktops. Ongoing management including software distribution, patches and updates can be daunting and labour intensive. This is due to the need to test and confirm implementations for different PC configurations. Also, the lack of standardisation and the fact that the IT department has to fix problems on-site and in person can significantly increase the support costs of classic desktops.

Among the most important advantages: working independent of location. This allows your employees to work from the office, home office, on-site at a customer's location or even around the clock anywhere in the world. Unreliable and problematic data synchronisations between locations are a thing of the past. Centralised management is also ideal for streamlining the enterprise, simplifying the setup of new employees and the management of access rights and software access. When the issue of security is then considered, the package is complete.

In the coming years, there is a trend towards fully dynamic workspaces created by centralised concepts, and virtualisation is essential for centralisation. If you have any questions about VDI and implementing a virtual desktop infrastructure in your company, or if you have any questions about customised solutions, please contact our sysGen technology team!
Contact us